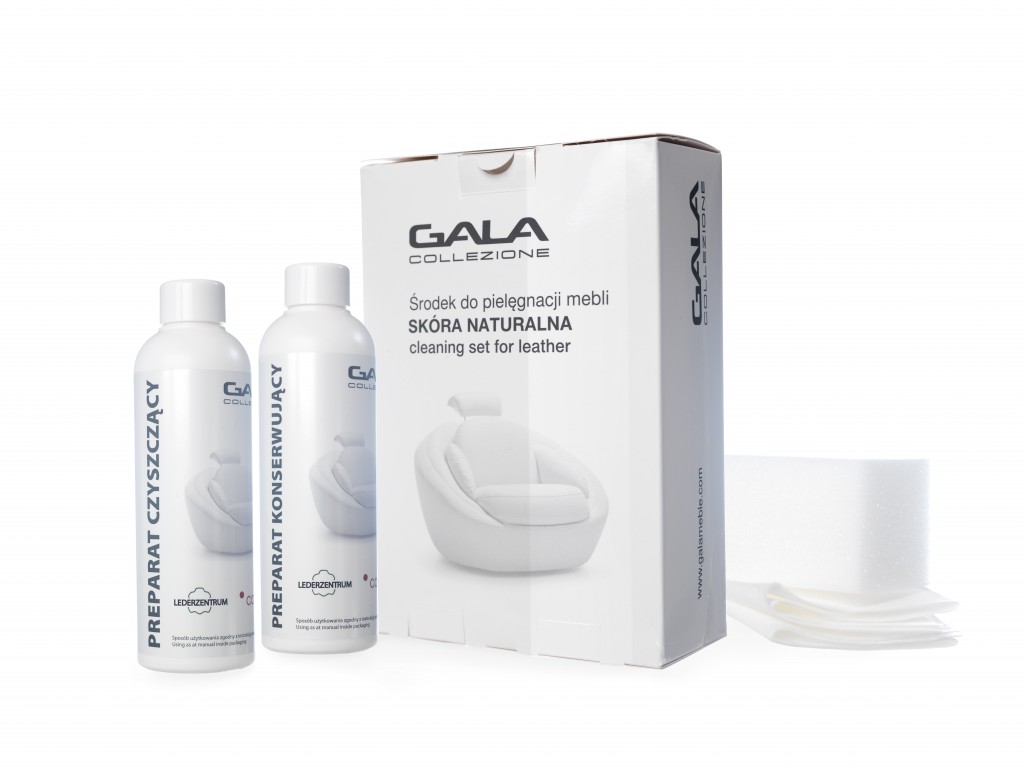 Take good care of your leather couch and corner settee
A set of Gala Collezione care products has been developed jointly with the renowned research center Lederzentrum. It consists of a SOFT CLEAN cleaner (which removes most stains and dirt) and a LV PROTECTOR preservative agent (which water-proofs the surface and protects it against abrasion and cracking) – these are the only recommended cleaning and care products which support manufacturer's warranty.
4 principles for effective care of natural leather
Principle 1

Carry out the first maintenance of your sofa using Gala Collezione care set:
step 1 – vacuum the furniture item
step 2 – clean it with a SOFT CLEAN cleaner and leave to dry,
step 3 – impregnate it with LV PROTECTOR and leave to dry

2 months after purchase
Principle 2

Remove fresh stains and dirt with a dry cloth

Principle 3

Dust the furniture using a dry cloth that attracts dust or a sponge slightly dampened with a cleaning agent

once a week
Principle 4

Carry out the full maintenance routine using Gala Collezione care set

2 – 4 times a year
How to ensure satisfaction from using Gala Collezione furniture?
Unpacking and arranging the furniture
Carefully unpack the furniture item (do not use any sharp tools) and remove all transport protection
If assembly is needed – use the information sheet supplied with the furniture item
Move the furniture item by holding it from the bottom by rigid elements only.
Avoid moving the furniture by holding the armrests, loose items (e.g. cushions) or upholstery – you can break or damage them
Avoid moving furniture across the floor as the legs can scratch the surface.
Level the furniture item in relation to the floor
Shape the cushions, armrests and seat manually to quickly remove the creases caused during transport
Use the furniture item in a dry, enclosed area, away from direct sunlight and radiators
| | |
| --- | --- |
| Optimal conditions of the room | |
| Air humidity |  30 do 70 % |
| Temperature | +15 do + 25 °C |
| Distance from radiators and other heat sources |  min. 1 meter |
Everyday use
Use the furniture in accordance with their intended purpose and make sure they are folded and unfolded by adults only
Avoid sitting on the armrests, standing and jumping on the seat, backrest or individual spring strips
Protect wooden surfaces (of the liquor cabinet or shelves) against scratches or impact
In the case of double sets or combo furniture, apply wear and tear equally (not only to one seat) to avoid subsequent visual differences
Use the sleeping function only occasionally
Protect the leather upholstery from direct contact with human sweat and vegetable and animal fats.
Cleaning and maintenance
Maintain your furniture regularly to ensure the utility and aesthetic values for a long time
Upholstered and matt surfaces should be cleaned using a vacuum cleaner with a soft brush
Polished surfaces should be dusted only with a soft, dry cloth
Remove the stains as soon as they appear using a dry, well absorbing cloth and a cleaning agent recommended by Gala Collezione
Clean the upholstery gently with light circular motions
Use the furniture item once the surface is completely dry
IMPORTANT: using cleaning solvents (containing gasoline, alcohol or stain removers) may cause irreparable damage to the leather. Use only cleaning agents recommended by Gala Collezione to keep the warranty valid